2023 Plenary Address
Race and the Brain: Insights From the Neural Systems of Emotion and Decisions
Presented by Dr. Elizabeth Phelps
WCBR is pleased to introduce the 2023 Plenary Speaker, Dr. Elizabeth Phelps. Dr. Phelps will present on Saturday, January 21
About Dr. Phelps
Dr. Phelps is the Pershing Square Professor of Human Neuroscience at Harvard University. She received her PhD from Princeton University and served on the faculty of Yale University and New York University. Her laboratory has earned widespread acclaim for its groundbreaking research on how the human brain processes emotion, particularly as it relates to learning, memory and decision making.
Dr. Phelps is the recipient of the Distinguished Scholar Award from the Social and Affective Neuroscience Society, the William James Award from the Association for Psychological Science and the George Miller Award from the Cognitive Neuroscience Society. She is a fellow of the American Association for the Advancement of Science, the Society for Experimental Psychologists and the American Academy of Arts and Sciences.
She has served on the Board of Directors of the Association for Psychological Science, the Society for Neuroeconomics and was a founding board member of the Society for Neuroethics. She has previously served as the President of the Society for Neuroeconomics, the Association the Social and Affective Neuroscience Society and the Association for Psychological Science.
Session Abstract
Investigations of the neural systems mediating the processing of social groups defined by race, specifically Black and White race groups in American participants, reveals significant overlap with brain mechanisms involved in emotion. This talk will provide an overview of research on the neuroscience of race and emotion, focusing on implicit race attitudes. Implicit race attitudes are expressed without conscious effort and control, and contrast with explicit, conscious attitudes. In spite of sharp decline in the expression of explicit, negative attitudes towards outgroup race members over the last half century, negative implicit attitudes persist, even in the face of strong egalitarian goals and beliefs. Early research demonstrated that implicit, but not explicit, negative attitudes towards outgroup race members correlate with blood oxygenation level dependent signal in the amygdala – a region implicated in threat representations, as well as emotion's influence on cognition. Building on this initial finding, we demonstrate how learning and decisions may be modulated by implicit race attitudes and involve neural systems mediating emotion, learning and choice. Finally, we discuss techniques that may diminish the unintentional expression of negative, implicit race attitudes.
Join WCBR for the Plenary Breakfast and Address on Saturday, January 21 at 8:00 AM in the Cliff Lodge Ballroom. 
Congratulations to WCBR's 2023 Pioneer Awardees!
Each year, WCBR solicits nominations for the annual Pioneer Awards. This tradition serves to recognize and honor pioneering scientists who demonstrate excellence in the field of neuroscience and have made invaluable contributions to WCBR over the years. Many worthy candidates were nominated this year and the WCBR Board of Directors and Executive Committee had the difficult task to select two candidates for recognition. Thank you to all those who nominated our candidates, as we sincerely appreciate the considerable work required to build a nomination that represents the immense contributions of our worthy candidates.
It is with great pleasure that we introduce the
2023 WCBR Pioneer Awardees! 
 Marisela Morales, M.S., Ph.D.

Dr. Marisela Morales is a Branch Chief of the Integrative Neuroscience Research Branch and Section Chief of Neuronal Networks Section in the Intramural Research Program (IRP) at the National Institute on Drug Abuse (NIDA) at the National Institutes of Health (NIH). She is also the NIDA IRP Associate Director of Technology. She has been investigating the molecular and cellular composition of neuronal networks and how their different elements play a role in different aspect of neuronal transmission underlying animal behavior. She has discovered unanticipated neuronal phenotypes in the midbrain and forebrain, including neurons that co-release several neurotransmitters from the same axon or same axon terminal, and showed that these neurons play a role in reward, aversion, drug seeking behavior or pain. She is known particularly for her studies on neuronal diversity among ventral tegmental area neurons, their neuronal connectivity and role in motivated behavior. She was a co-leader of the NIDA Initiative to Promote Racial Equity, she is currently a member of the NIH Equity Committee and serves on the WCBR Board of Directors.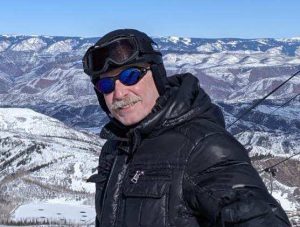 Phil Skolnick, Ph.D., D.Sc.

Phil Skolnick is currently the Chief Scientific Officer at Opiant Pharmaceuticals. His career at the NIH intramural research program spanned 25 years, beginning with a postdoctoral fellowship in the laboratory of John W. Daly and ending as Senior Investigator and Chief, Laboratory of Neuroscience, NIDDK.  He left the NIH in 1997 to join Lilly Research Laboratories as a Lilly Research Fellow in Neuroscience and subsequently joined DOV Pharmaceutical, Inc. as its Chief Scientific Officer. In 2010, Skolnick returned to the NIH as the Director, Division of Therapeutics and Medical Consequences at NIDA prior to assuming his current position in 2017.
Dr. Skolnick has co‑authored more than 560 articles and edited six books spanning both basic and clinical neuropsychopharmacology. He was a founding editor of Current Protocols in Neuroscience and has served on the editorial advisory boards of more than a dozen journals. Skolnick is a Fellow of the American College of Neuropsychopharmacology (ACNP) and the American Society for Pharmacology & Experimental Therapeutics (ASPET). ASPET has recognized his body of work with the ASPET Award for Experimental Therapeutics and the Ray Fuller Lecture in the Neurosciences. He has also been recognized with the A.E. Bennett Award in Biological Psychiatry, an Anna-Monika Prize, the Donald F. Klein Lifetime Achievement Award from the American Society of Clinical Psychopharmacology, and multiple distinguished lectureships. Dr. Skolnick has been awarded the Doctor of Science, honoris causa by Long Island University (1993) and the University of Wisconsin-Milwaukee (1995).
He has been attending the WCBR for more than forty years. Postdoctoral Fellows from the Skolnick laboratory at both the NIH and Eli Lilly were highly "encouraged" to participate in at least one WCBR meeting during their tenure. Phil's great joy is skiing at the WCBR with former Fellows, colleagues, and his sons.
 Join us in congratulating our 2023 WCBR Pioneers!
Donate to the Travel Fellowship Fund
Over more than fifty years, the Winter Conference on Brain Research has hosted several generations of scientists who have propagated science, built collaborations and forged enduring relationships through their attendance and participation. We are proud of our history and remain committed to supporting future generations of scientists. As part of our support system for novice investigators, we provide travel awards. In particular, these awards encourage the participation of first-time attendees. Many award recipients return to the conference for years and even decades, ensuring the continued success of the meeting.
This year, donations to the travel fellowship fund are more important than ever. WCBR has historically received grant monies from the National Institute of Health to support these awards, but those funds will not be available for 2023. We need your support to continue to provide travel assistance for young investigators who play an integral role in the annual meeting. We work to raise funds to endow these fellowships from federal and industry sources, but we also rely on generous support from private donations from the WCBR community. Please consider making a donation to the fellowship fund this year to help us to continue to support investigators who are working in the first chapters of their careers. Your generosity is critical to the enduring success of our meeting, as the travel awards lessen the financial burden of meeting attendance, help to make new investigators feel welcomed, and encourage their integration into the community of Winter Brain.
Mission Statement
The mission of the Winter Conference on Brain Research (WCBR) is to provide a forum for the dissemination of all aspects of neuroscience at an annual meeting that offers cutting-edge science in formal sessions within a relaxed networking environment amenable to all. To achieve this mission, the WCBR focuses on the following three sub goals:
To exchange neuroscience research between a broad and diverse audience of neuroscientists through panels, short courses, and posters on basic, clinical, and translational findings at all levels from molecular to behavioral.
To increase diversity in neuroscience including, but not limited to, the provision of financial support for junior investigators.
To provide education in neuroscience to physicians and other healthcare professionals through continuing medical education, and to lay audiences through outreach activities.
If you have any questions, please email WCBR's Executive Office at info@winterbrain.org or contact by telephone, 615-324-2365.
Photography and Videography Policy
WCBR does not allow photography or videography of oral presentations, slides and/or posters without permission from the presenter. At the beginning of the presentation, the presenter must either grant permission to the audience and/or include an icon on the first slide or poster signifying photos or videos are allowed.
Code of Conduct Policy
The Winter Conference on Brain Research (WCBR) is dedicated to providing a safe, productive and discrimination-free experience for all participants during the Annual Meeting regardless of race, color, national origin, religion, creed, age, sex (including pregnancy), gender, gender identity, physical or mental disability, perceived disability, ancestry, marital status, genetic information, sexual orientation, citizenship, past, current or prospective service in the uniformed services, or any other basis protected by federal, state or local laws. WCBR does not tolerate discrimination or any form of harassment and is committed to enforcing this Code of Conduct Policy. CLICK HERE to continue reading WCBR's Code of Conduct Policy.