Discounted Lift Tickets
Discounted lift tickets will be purchased onsite. WCBR attendees will receive a special discounted rate on lift tickets.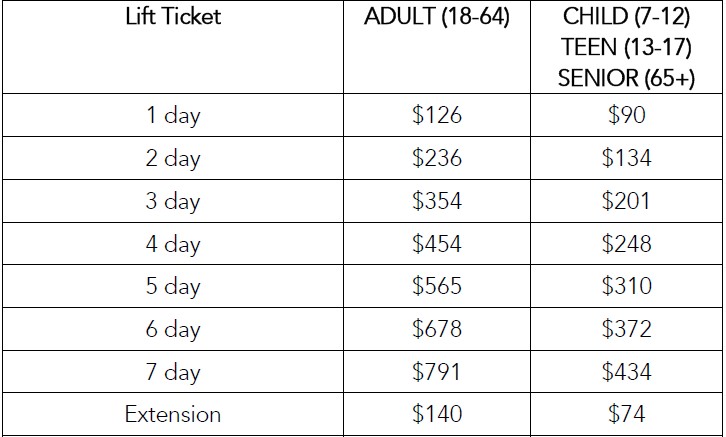 With the new Aspen Snowmass Group Voucher program, WCBR guests do not have to decide in advance how many days you and your families plan to ski/snowboard during your stay. The WCBR Vouchers will be distributed at the group registration desk at the Westin Snowmass beginning at 12pm on Monday, January 28th. At the time of pickup, simply inform us how many people in your group intend to ski/snowboard and whether they are Adult (18-64), Children (7-12), Teens (13-17) or Seniors (65+). If you plan to ski prior to or on January 28, 2019, please contact Laura Reynolds at lreynolds@parthenonmgmt.com with your arrival date, the name of property where you will be staying and how many of people in your group are adults, children, teens or seniors.
You will be able to purchase the discounted lift tickets at the Snowmass Ticket Pavilion adjacent to the Westin or at Four Mountain Sports using the WCBR Vouchers. Vouchers are also redeemable at any lift ticket office for your preferred number of days; they will be set-up under the Group Name and have no cash value.
Additional Discounts
CLICK HERE to view the Mountain Advantage Packet which outlines the additional discounts WCBR attendees receive.
Mountain Tours
Learn the history of Snowmass and the Brush Creek Valley while skiing around the mountain with an Ambassador. History tours meet every Tuesday at 10:30am at the top of Sam's Knob and 1:30pm at the trail map outside the Elk Camp Restaurant and leave from the Guest Service Center. The tour is FREE and skiers and riders need to have an ability level of 6 or greater to join. CLICK HERE for more information.
Discounted Equipment
Four Mountain Sports has 9 convenient locations within the Aspen/Snowmass area (at the base of each mountain). 35% discount for pre-orders and 30% discount if you reserve onsite. CLICK HERE for more information and to reserve now.

The Snowmass Mall location is  your primary store. It is located adjacent to The Westin. Please see the ski concierge for directions. There is also a shop in Base Village just below the Gondola. 35% discount for all WCBR attendees. CLICK HERE for more information and to reserve now.

Snowmass Sports is the only full-service ski shop located in the Westin Snowmass resort, an elevators ride from the Westin Lobby or a short walk from the wildwood makes us convenient for all your ski rental needs. 40% discount for all WCBR attendees. CLICK HERE for more information and to reserve now.
Off Slope Activities
A representative from Snowmass Tourism will be available after the Keynote Breakfast on Tuesday, January 29th with activity suggestions that do not require skiing/snowboarding. CLICK HERE for an informative blog regarding off-slope activities. A sign up sheet for selected activities will be available on the WCBR Networking Board at the registration desk.